Grading in Brightspace
The recordings on this page cover the processes in Brightspace of creating assessments to gather student submissions, of creating an assessment strategy, connecting the assessments to the grades area via grade items, grading submissions online, and transferring grades from Brightspace using the grades transfer process.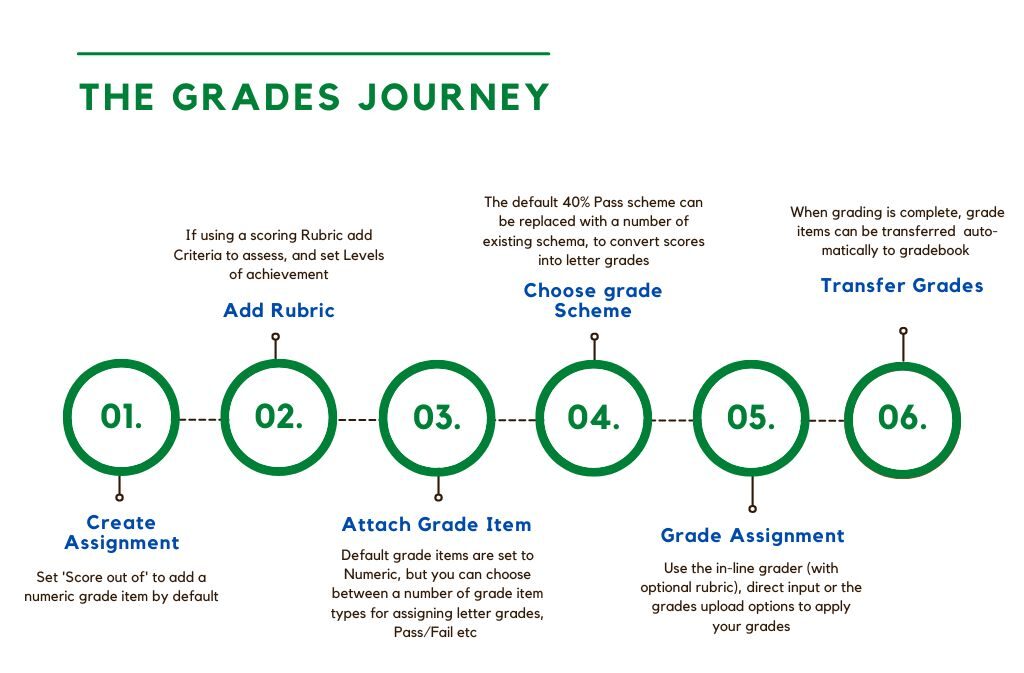 The Grades Journey
01. Create Assignment
Set 'Score out of' to add a numeric grade item by default.
02. Add Rubric
If using a scoring Rubric add Criteria to assess, and set Levels of achievement.
03. Attach Grade item
Default grade items are set to Numeric, but you can choose between a number of grade item types for assigning letter grades, Pass/Fail etc.
04. Choose Grade Scheme
The default 40% Pass scheme can be replaced with a number of existing schema, to convert scores into letter grades.
05. Grade Assignment
Use the in-line grader (with optional rubric), direct input or the grades upload options to apply your grades.
06. Transfer Grades
When grading is complete, grade items can be transferred automatically to Gradebook.
---
Assessment Types in Brightspace

Assessment Types in Brightspace

The Assignment tool
Creating Rubrics
The Quiz tool
Video Assignments
Discussion Boards

---
The Grading Area

The Grading Area

Matching Assessment Strategy to Grade Items
Components and Sub-components
Rubrics for Grading
Grade Visibility

---
Grading with Brightspace

Grading with Brightspace

Inline method
Grading by Rubric
Anonymous Grading
Direct Entry Method
Upload Method

---
Grades Transfer Process

Grades Transfer Process

Kevin Lohan of UCD Registry goes through the Grades Transfer Process
---