Getting Started with your Bloomberg Account
You will need:
[checklist icon="check" iconcolor="#dd9933″ bg_icon="square"]
Access to the Bloomberg Terminal and
A mobile phone (to receive a text during the registration process).[separator top="30″ style="none"]
[/checklist]
Terminal Login
The terminals are usually switched off when you start.
[checklist icon="check" iconcolor="#2ba14b" bg_icon="square"]
Hit the power button on the computer to switch it on.
To log on to the Bloomberg terminal type the password "blpuk". (Ensure the matching username is "blpuk").
Usually, Bloomberg starts automatically. If not, double-click the Bloomberg icon on the home screen.[separator top="30″ style="none"]
[/checklist]
Getting Started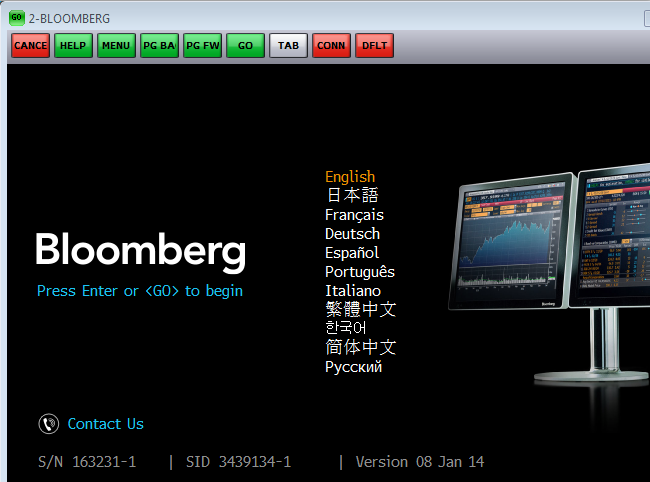 Once Bloomberg has loaded, you will see the Bloomberg home screen.
Hit the "Enter" button on the keyboard or click "<GO>" on screen. This will load the Bloomberg login screen.
Bloomberg Account
If you don't have a Bloomberg account, you will have to create one.
Click the "Create a New Login" link at the bottom left of the screen.
A registration form will appear and you will be required to fill in your details.
Note: The Bloomberg account is NOT related to your UCD Connect account.
[alert type="notice" title="Mobile Phone Activation" animation_type="0″ animation_speed=""]
It is important to have your mobile phone with you for registration as you will receive an activation code via text once you have filled in your details.
[/alert]
–  The first registration screen will ask you if you have been a Bloomberg client before. Select "No" for this.
–  On the second screen, you should fill in your details accordingly.
–  Once completed, your account will be set up and you can log in to access the system.