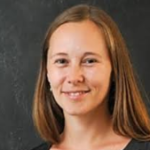 Monique Sherett

Module Coordinator: Monique Sherrett
Collaborator: Business eLearning
Modules: Digital Marketing MKT30120
Department: Marketing
Target Audience: Stage 3 marketing students at Quinn School of Business
Lecture Capture - The Approach
MKT30120 is a 12 week module delivered in 2 hour weekly lectures. All 12 lectures were recorded and made available securely within Blackboard for students to review. The weekly recordings were split into Parts 1 and 2. The on board analytics show that the average played percentage of each video was 49.8% and the average play time of each video was 21m 34s. The viewing statistics also show a clear spike in views in the run up to exams in early May.
Survey Results: students were surveyed in relation to how they found access to lecture capture content in their module
73.6%  viewed recorded content weekly or frequently
62.6% rated the recording quality as "Excellent"
74% rated access to online lecture content as "Very helpful"
92% rated having access to recorded content made a positive difference to the learning and review of course content
91% of students would recommend other module coordinators incorporate lecture capture into their modules
Student Feedback: open feedback submitted by students
"The lecture capture was ideal for re-watching parts of the lecture I didn't fully understand or bits that I didn't have enough time to write sufficient notes on during class. I would highly recommend that other lecturers use it, particularly in maths based courses"

---

"I think it was a really positive step and the first time this has been available to me in UCD which is a pity because I'm just about to finish up. thanks for doing it, it really helped in study week in particular"

---

"Students have different learning styles, different abilities in note taking, and understanding the materials during lectures. So the ability to access a video of every lecture on BlackBoard encourages all students to engage with the class's contents and increase their overall performance"

---

"These recorded lectures have really helped me this semester. Due to illness i am not able to attend my 9am lectures all the time but this way i was able to keep up with the module"

---

"I have watched all of your video tutorials and i am very impressed. I think it's a fantastic resource and should be adopted by every module coordinator"