[row]
[two_third]
Presentation Rehearsal Studios
The Presentation Rehearsal Studios provide wireless technology-enabled conference facilities for student teams to collaborate and enable students to record (onto USB) themselves while presenting a given topic. The use of the studio is restricted to academic and research purposes only.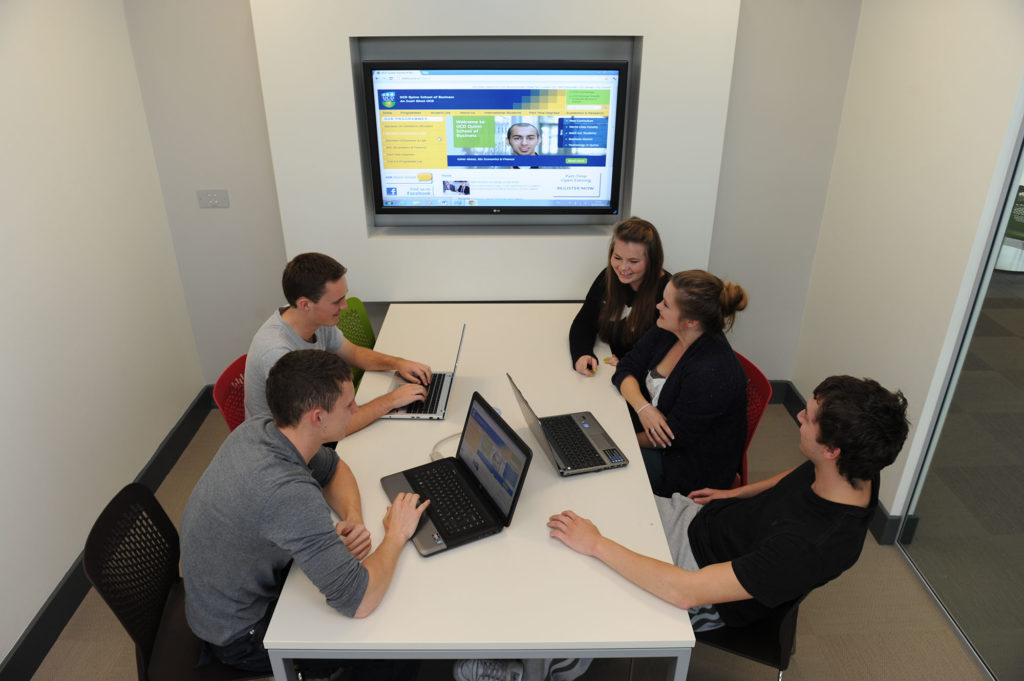 Benefits of using Studios:
The studios are bookable by students
Practice presentations
Record presentations
Collaborate wirelessly in groups
To use wireless presentation in the rooms, you must access the Eduroam wireless network, checkout the resource below that explains how to access the network. Contact the Business eLearning Team by email or using the form provided for more information about what's possible in the Studios, or make a booking through UROOMS (see below).
[/two_third]
[one_third][vfb id=5][/one_third]
[/row]
---
[content_boxes layout="version-1″ textcolor="" iconcolor="" circlecolor="" circlebordercolor=""]
[content_box title="Studios 1 & 4 Presentation Recording Rooms" icon="plus" backgroundcolor="" link="https://buselrn.ucd.ie/studios-1-and-4-technology-guide/" linktarget="_self" linktext="Learn More" linkcolor="green" animation_speed=""][/content_box]
[content_box title="Studios 2 & 3 Wireless Collaboration Studios" icon="plus" backgroundcolor="" link="https://buselrn.ucd.ie/studios-2-and-3-technology-guide/" linktarget="_self" linktext="Learn More" linkcolor="green" animation_speed=""][/content_box]
[content_box title="UROOMS Booking System" icon="plus" backgroundcolor="" link="https://buselrn.ucd.ie/urooms/" linktarget="_self" linktext="Learn More" linkcolor="green" animation_speed=""][/content_box]
[content_box title="Eduroam Wireless network" icon="plus" backgroundcolor="" link="https://buselrn.ucd.ie/docs/orientation-2017/networks-web-2017/" linktarget="_blank" linktext="Learn More" linkcolor="green" animation_speed=""][/content_box]
[/content_boxes]
---