Learning Technology Orientation
Introduction
The Lochlann Quinn School of Business has a Mandatory Laptop Policy. This means that you will need a laptop in order to complete various tasks assigned in your modules. The School also has an Advised Laptop Standard, that we encourage all students to meet if possible. As our visiting students are here for shorter durations, we appreciate that meeting all aspects of the Advised Laptop Standard may not be possible, however it is important to meet the requirements of each module that you are registered to. Specific technology requirements (e.g. specific software, online test conditions) will be detailed in your modules. It is your responsibility to meet the needs of each module.
Details of the Advised Laptop Standard can be found here, with an explainer video here.
Important Information:
If you are bringing a laptop to the UCD Quinn School you must register to the system. Laptop Registration will allow you access to the faster cabled network and you will take any online tests on the UCD Wired Network. A guide to registering to the network and information on other networks in UCD can be found here.
Any hardware or software faults should be fixed prior to travelling.
You should have an updated Anti-Virus program and your laptop must be virus free
If your laptop's anti-virus programme expires before your semester ends, you can install UCD's campus anti-virus software (Sophos): Download Sophos Anti-virus
The Lochlann Quinn School of Business works within a Microsoft Windows environment. It is recommended that you use Windows 8 or Windows 10 professional.
Your laptop must have the latest updates installed.
You must have a recent version of Microsoft Office installed. As a student of UCD, you have access to a free download of MS Office 2016. More information about this can be found here.
UCD are unable to provide students with licensed software so ensure you bring all required software CD's and DVD's with you.
You should contact your laptop manufacturer for details of hardware support within Ireland as this facility is not provided by UCD.
Support Services
If you require help with regard to your laptop and the UCD network please call to IT services, please consult our Support Services guide.
The UCD Library also issue a laptop loan scheme (3 hours max).
Below are a series of resources, which aim to give you an understanding of the main learning systems you will be using as well as showcasing innovative technologies that are available to you as a student of the College of Business:
---
UCD Connect & Code of Practice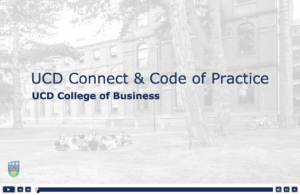 This resource will introduce students to essential UCD systems and the UCD Technology Code of Practice. Systems students have access to through UCD Connect include Module Registration, Library Accounts, Noticeboards, Software Downloads and the Brightspace learning management system. Remember to consider the UCD Technology Code of Practice when accessing all UCD systems.
---
Accessing Brightspace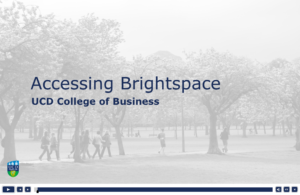 This resource will show you how to access the Brightspace Virtual Learning Environment (VLE) used in UCD. It includes information on logging into Brightspace, the Brightspace landing page and how to access your modules.
---
Brightspace Basics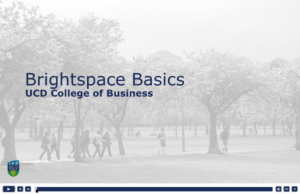 This resource will introduce you to the Brightspace Virtual Learning Environment used in UCD. It includes information on navigating your modules, and overview of the system, accessing your content and personalising your notification settings.
---
Assignments in Brightspace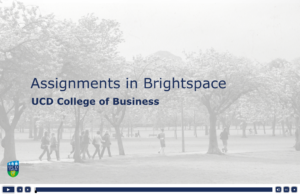 In some of your module you will be asked to upload your assignments electronically, via the Brightspace VLE. This resource will further develop your understanding of the VLE: outlining how to submit assignments, and what to expect from Brightspace's built-in plagiarism detection tool (Urkund).
---
Brightspace Online Tests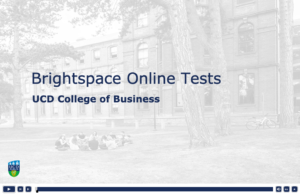 This resource will help you prepare to take an online test through the Brightspace learning management system. Tests require you to have a laptop that is registered to the UCD wired network and is physically connected to the network with an ethernet cable. It is the student's responsibility to be 'test ready'. Everything you need to know to prepare for taking tests online is discussed.
---
Collaboration Tools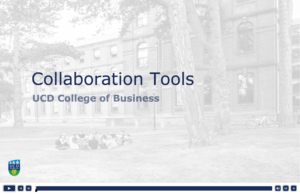 In this resource we introduce you to the many online tools available to you in UCD for collaborating in groups on assignments and for module specific activities. Students have access to a number of free Cloud Storage and Team Management tools from Google and Microsoft that can be used to help manage group work contributions.
---
Microsoft Office 365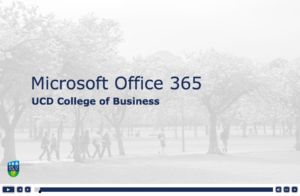 All UCD students have access to a free install of MS Office 365, including Word, Excel, Powerpoint & Access (for Windows only). MS Office 365 also give access to OneDrive cloud hosting, and additionally gives access to a number of other applications including MS Teams and OneNote.
---
Financial Times Online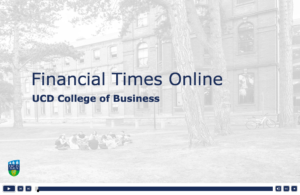 Financial Times Online is a resource made available for free to Business School students, that allows you to access premium content and services from the Financial Times. Students gain an myFT account, can tailor business news alerts to their research, and access current and archived content for both local and global editions. FT Online provides a number of business information tools to support your learning.
---
Virtual Tour of the Innovation Corridor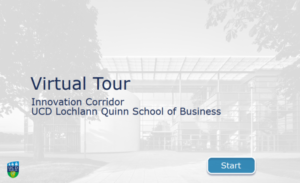 This 360 Tour of Quinn School of Business is an immersive augmented-reality and mobile-friendly virtual tour designed to help orientate you within the Quinn building and introduce you to some of the unique facilities and learning environments available to you within the Quinn School.
---
Moore Studio Spaces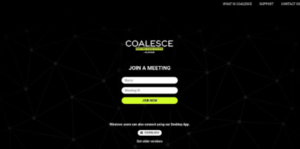 This resource will introduce you to Studio Spaces in the new Moore Centre for Business building beside Quinn. These spaces allow small group audio-video presentations, digital collaboration and video calls.
---
Bloomberg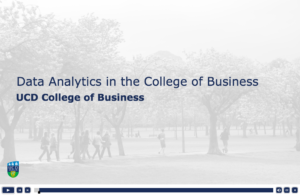 The Data Analytics Lab facilitates diverse learning experiences outside the traditional classroom. The Lab houses a suite of state-of-the-art Bloomberg Terminals, with dual screens views and colour-coded Bloomberg keyboards to allow students to do real-time financial market analysis.
---