Financial Times Online Education Programme
The UCD School of Business has partnered with the Financial Times to provide students with a free of charge subscription to the Financial Times Online (FT.com) Education Programme. FT.com gives you access to Financial Times news and commentary, company financials, market data, special reports, interactive features and much more.
The FT's education programme offers a practical way for lecturers to bring current affairs and an international perspective into your curriculum.

The FT offers students fresh insights into what they are studying, whilst the tools and services helps to easily incorporate the FT into the classroom.
Students can use the FT to follow an industry, a company, a topic or a theme. The use of the FT prepares students for careers in an increasingly global marketplace.
To access the Financial Times Online Education Programme, make sure you log out temporarily of UCD Connect (or open an incognito browser window) and then click on this button: Access FT Online
The FT resource can be used to:
Familiarise students with digital technology.
Research before and after class thus enhancing classroom discussion.
Create article-based assignments and projects focused on a company or industry in a specific market.
Build real-world contemporary and international case studies.
---
Financial Times Online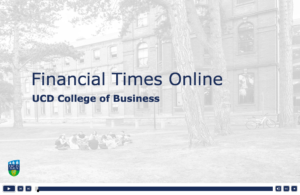 Financial Times Online is a resource made available for free to Business School students, that allows you to access premium content and services from the Financial Times. Students gain an myFT account, can tailor business news alerts to their research, and access current and archived content for both local and global editions. FT Online provides a number of business information tools to support your learning.
---