UCD School of Business: Learning Technology Orientation

The degree programmes at the UCD School of Business rely heavily on student interaction with technology. The School has a mandatory laptop requirement and all students are required to bring their laptop, power supply and network (LAN) cable to the Business School on a daily basis. Make sure you refer to our guide to the Standard Operating Environment of the School of Business, also located on this website. Click here for more information.
To help you navigate your way through your new technology environment, the Business eLearning team deliver the compulsory module, Technology for Business, at the start of the academic year for all incoming students. You will see this class on your Semester 1 timetable.
Below are a series of resources, which aim to give you an understanding of the main learning systems you will be using as well as showcasing innovative technologies that are available to you as a student of the Quinn School.
---
Advised Laptop Standard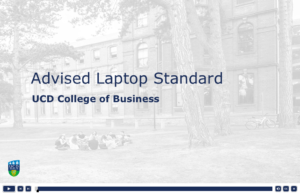 The Quinn School of Business has an advised laptop standard as part of the school's Mandatory Laptop Policy. All UCD Business undergraduates are required to bring their laptops with them to class each day. This resource explains the needs of the online learning environment and recommend how you can adhere to the standard to best meet your technological needs.
Advised Laptop Standard
---
Microsoft Office 365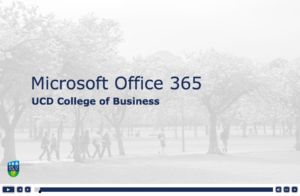 All UCD students have access to a free install of MS Office 365, including Word, Excel, Powerpoint & Access (for Windows only). MS Office 365 also give access to OneDrive cloud hosting, and additionally gives access to a number of other applications including MS Teams and OneNote.
MS Office 365
---
UCD Connect & Code of Practice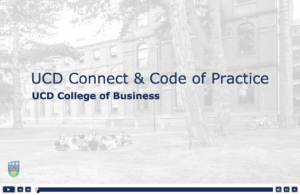 This resource will introduce students to essential UCD systems and the UCD Technology Code of Practice. Systems students have access to through UCD Connect include Module Registration, Library Accounts, Noticeboards, Software Downloads and the Blackboard learning management system. Remember to consider the UCD Technology Code of Practice when accessing all UCD systems.
UCD Connect
---
UCD Networks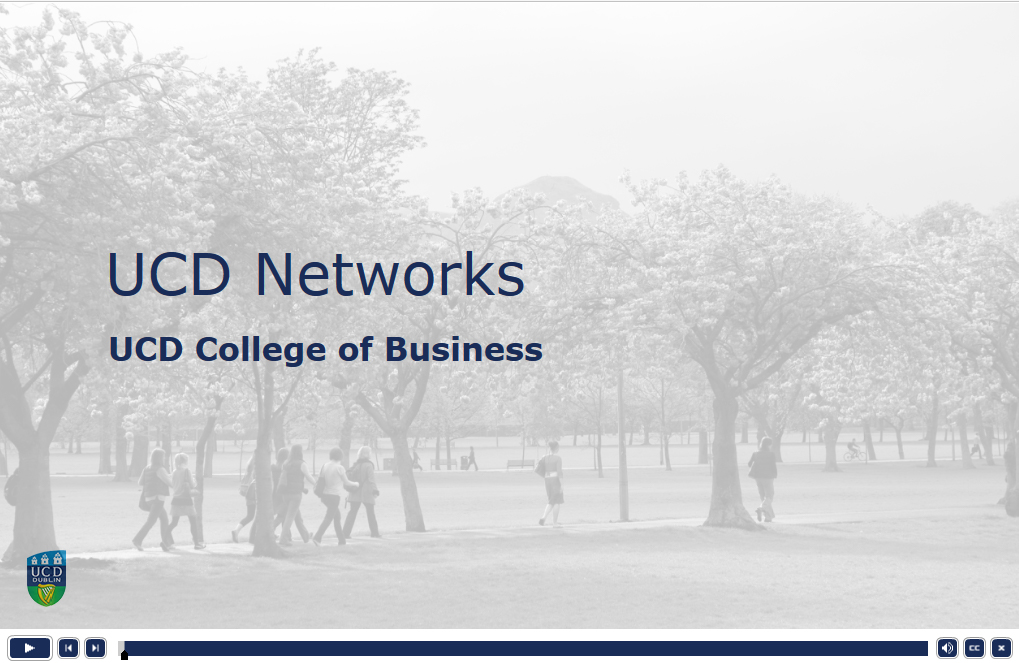 This resource will introduce students to the three networks in UCD - UCD Wired, UCD Wireless and eduroam. You will use the UCD Wired network for in-class tests, UCD Wireless for everyday use and on your mobile devices and eduroam to connect to the Wireless Presentation and Collaboration system in the studios.
UCD Networks
---
Blackboard Intro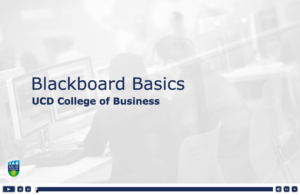 This resource will introduce you to Blackboard the Learning Management System used in UCD. it includes and overview of the system, how to access it, and what to expect from the navigation and module structure when using Blackboard for the first few times.
Blackboard Basics
---
Blackboard Assignments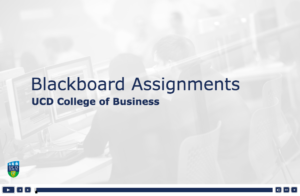 In some of your module you will be asked to upload your assignments electronically, via the Blackboard LMS. This resource will further develop your understanding of the LMS: outlining how to submit assignments, and what to expect from Blackboard's built-in plagiarism detection tool (SafeAssign).
Blackboard Assignments
---
Blackboard Tests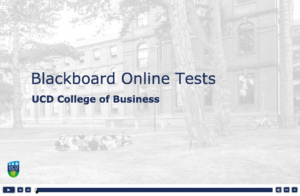 This resource will help you prepare to take an online test through the Blackboard learning management system. Tests require you to have a laptop that is registered to the UCD wired network and is physically connected to the network with an ethernet cable. It is the student's responsibility to be 'test ready'. Everything you need to know to prepare for taking tests online is discussed.
Blackboard Tests
---
Virtual Tour of the Innovation Corridor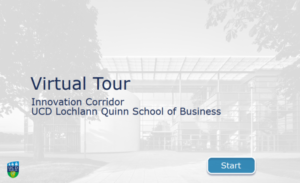 This 360 Tour of Quinn School of Business is an immersive augmented-reality and mobile-friendly virtual tour designed to help orientate you within the Quinn building and introduce you to some of the unique facilities and learning environments available to you within the Quinn School.
360 Tour
---
Presentation Rehearsal Studios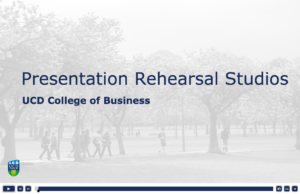 This resource will introduce you to the Quinn School's Presentation Rehearsal Studios, where students can get to grips with presenting information to small groups, make audio and video recordings of presentations, and improve your presentation and pitching skills. The studios also make great meeting rooms for students working on group assignments.
Studios
---
Bloomberg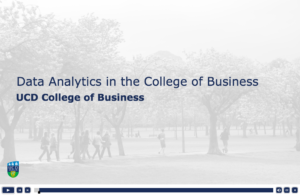 The Data Analytics Lab facilitates diverse learning experiences outside the traditional classroom. Deloitte have partnered with the School to bring a suite of state-of-the-art Bloomberg Terminals, with dual screens views and colour-coded Bloomberg keyboards to allow students to do real-time financial market analysis.
Bloomberg Lab
---
Collaboration Tools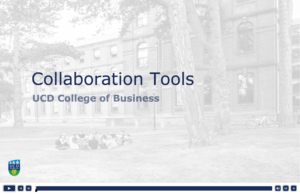 In this resource we introduce you to the many online tools available to you in UCD for collaborating in groups on assignments and for module specific activities. Students have access to a number of free Cloud Storage and Team Management tools from Google and Microsoft that can be used to help manage group work contributions.
Collaboration Tools
---
Financial Times Online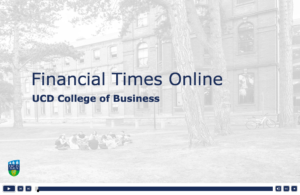 Financial Times Online is a resource made available for free to Business School students, that allows you to access premium content and services from the Financial Times. Students gain an myFT account, can tailor business news alerts to their research, and access current and archived content for both local and global editions. FT Online provides a number of business information tools to support your learning.
FT Online
---