Using Collaborate Ultra: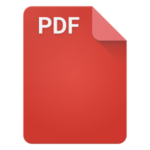 Have a look at these short videos and view the resources on this page to familiarise yourself with how to use Collaborate Ultra.
Download the offline guide or follow the video demonstrations below.
In addition you can download our Powerpoint file (.pptx) that includes on-screen directions for your students (slide).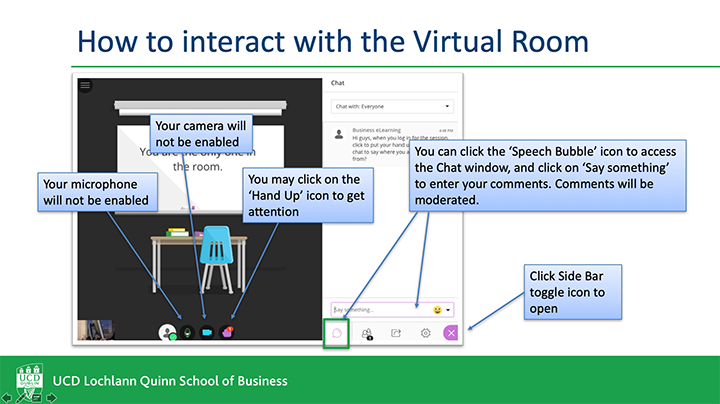 ---
Breakout Rooms

Breakout Rooms

Breakout Rooms allow instructors to organise students into discreet group rooms for discussion during larger sessions. Have a look at the following video for a brief introduction:

Blackboard support page for Breakout Groups here.

---
What can you do in breakout groups?

What can you do in breakout groups?

Breakout groups have their own private audio, video, whiteboard, application sharing, and chat. Any collaboration that takes place in a group is independent of the Main room (and other groups). What is said or viewed in a breakout room isn't captured in recordings. Breakout groups are designed for group collaboration. Every attendee in the group is a presenter by default. This means that all group members can share the whiteboard, files, and applications with the rest of their group. Group chats and content shared are private to the group. The Everyone chat room is open to everyone, no matter what group you are in.

Share content
The Ultra experience of Blackboard Collaborate makes it easy to share your knowledge. You can upload content, including PowerPoint® presentations, or share your desktop screen to show more details.

Open the Collaborate panel and select Share Content. Select one of these share options to start sharing and collaborating with your attendees.

Whiteboard
Application
Camera
File

---

Share whiteboard
Collaborate on the whiteboard together. Open a blank whiteboard to draw or just jot down notes. Moderators decide if participants can use the whiteboard and tools along with you during a session.

---

Share application
Share your desktop or a software application to teach students about a particular topic. Whenever you move through the application or desktop, your students automatically follow along. When you share your desktop or application it is seen by everybody in the live session and anybody viewing the recording later. Make sure to close any windows and applications you don't want others to see before starting to share.

Application sharing is not currently supported for screen readers in Blackboard Collaborate. If you are using a screen reader, you can share files and a blank whiteboard with your attendees. You cannot share an application.

---

Share camera
The Share camera option gives you the ability to share more than one camera. Share your video and share another camera connected to your computer. Attendees can see you and anything else you want to show. You're only limited by the number of cameras and USB ports in your computer.

---

Share files
Upload GIF, JPEG and PNG images, PDF files, or PowerPointsof 60MB or lower to your session. You can upload multiple presentations, however the total size allowed is 125 MB or lower for any session.

Screen reader users can access text from PowerPoint and PDF files shared in the session. This provides an easy way to follow along as slides change. Moderators and presenters must select Share Files and upload the files to Collaborate for screen readers to access the text.
Select Add Files Here or drag a file into the box to upload it. Select Share Now when you're ready for students to see the file. Moderators can choose to allow participants to mark up your shared file.
If you are recording your session, allow 8 seconds for the recording to include your shared file before moving on.

---

Manage raised hands
Attendees can raise their hands any time during your session. They do this to get your attention or ask a question. You can choose to call on them now or close the notification and call on them later.

Turn on notifications for when someone raises their hand. An image of a person raising a hand appears beside attendees with their hand raised.& Those attendees are also brought to the top of their role list in the Attendees panel so they aren't forgotten and are easily found.

You can lower hands from the Attendees panel. Point to the attendee with their hand raised and select Attendees controls. Select Lower hand.

By default you are notified when someone raises their hand. If you do not see or hear hand raise notifications when attendees raise their hands, check your Notification Settings in My Settings.

Audio notification: You'll hear an alert that sounds like "Duh da".
Collaborate pop-up notification: A pop-up appears over the media space. Select Lower Hand in the notification to remove raised hands. Close the notification to leave the hand raised and come back to later.
Browser pop-up notification: A pop-up appears at the top of your browser window. Browser notifications only appear when you have another browser window, or application, open and active. Close the notification to leave the hand raised and come back to later.

---

Mute attendees
Only moderators can mute attendees.

---

Recordings
Only moderators can record sessions. If you want to record a session, ask your moderator to start and stop the recording.

---

Move to another group
Moderators can move themselves between groups any time. Moderators must give you permission to move yourself to another group.

If you can move between groups, open the Attendees panel, select Join group beside the group you want to join.


---
Tool Comparison – Online Class and Virtual Meetings

Tool Comparison – Online Class and Virtual Meetings

The Business eLearning team have created a handy tool comparison table, to assist you in choosing the appropriate technology for your online class / virtual meeting needs.

To view the comparison table, click here: https://buselrn.ucd.ie/tool-comparison

---
Sharing Live Video from YouTube

Sharing Live Video from YouTube

Best Practice for sharing video with students is to send the video link to students ahead of time, so that they can familiarise themselves with the relevant content before class begins.
If you wish to have students view a video during a session, paste the link directly into the virtual classroom Chat area, and allow students the time to watch the link before continuing the class.
Sharing live video within a virtual class is not best practice, and can result in a number of technical problems, including some students not being able to see or hear the video clearly – as the precise nature of any technical problems are nearly impossible to predict or avoid, it is best to share a link to the video instead.

---
Retrieving Your Recording

Retrieving Your Recording

---
Interface Overview

Interface Overview

Main Panels and Menus

The Session menu opens a collection of high level session actions and information. Open it using the Session menu button at the top left of the screen.

Tools and features you use only once or twice during a session are conveniently grouped here.

Find details about the session.

If you are a moderator you can record your sessions.

Connect your phone for audio.

Get help or report an issue.

---

Media Space

The media space in Collaborate is where the content of the session is displayed. Content you share is automatically the main focus of your screen. The picture-in-picture shows you who is speaking.

We've maximized the size of this space to create an inherent full screen experience at any screen size.

Tools that appear in the media space relate directly to what is happening in the session at that moment. You know immediately what you can do.

If you're not sharing content, the focus is on participant profiles and video. You can switch between a grid view and a view that follows the speaker. With the follow-the-speaker view, the focus moves to the current speaker as the discussion unfolds.

The Ultra experience switches to follow-the-speaker view automatically when there are more than five participants.

---

Collaborate Panel

The Collaborate panel takes your session experience to the next level. You now have a single space to go to engage other participants with all the great collaborate tools.

Chat with everyone in the session or privately with other moderators.

Manage participants (if you are a Moderator).

Share content or start polling or breakout groups(if you are a Moderator).

Set your personal and session settings(if you are a Moderator).

---

Session Settings

Create And Edit Sessions

Login to Blackboard and locate the module you will run the session from.

From within a content area select Tools, Blackboard Collaborate.

Collaborate Tool

Set the date and time the session starts and ends. You can choose to keep a session open or repeat. You can also select if students can enter the session prior to the start time.

Type a detailed description of the meeting. This helps students find the right session.
Copy the moderator link for your personal use, such as adding to a personal calendar item. Anybody using this link must be able to sign in with the session creator credentials.
Set guest access for the meeting. Click On to allow participants to invite additional guests.
You can send the copy of the guest link to your students, or other guests. You can also decide if your guests join as participants, presenters, or moderators by default.

Session links can be long and break when sent. Use a URL shortening service, such as TinyURL or Bitly, to create a short alias for your session.

Decide if guests join as a participant, presenter, or moderator. Permissions can also be set during your meeting.

Please note: Only supervisor and administrator accounts can create sessions.

---
Settings to make BEFORE sessions begin

Settings to make BEFORE sessions begin

While most settings can be changed any time during the session, we recommend setting some settings before the session begins, if you want to use them. These include allowing anonymizing chat messages and enabling telephony.

From the Sessions screen, find a session.
Select Session options, Edit settings, and Session Settings.
Optionally, set these settings:

Allow recording downloads: If you want to let users download recordings, you can set this before the session and recording begins.

You can change this later, if you change your mind. You can choose this option at any time. Either before the session is delivered or anytime after the recording has been created.

Allow users to join a session using a telephone: When selected, all attendees see an option in the Session menu to use their phone for audio during a session. If you don't select it, telephone is not available during the session.
Participants can only chat with moderators: Private chat is available by default. When selected, participants can only chat privately with moderators. If you don't select it, participants can chat privately with any body else in the session.
Moderators supervise all private chats: When selected, moderators can see everything that is said in private chat channels. An alert appears at the top of the private chat channel informing users that the chat is being supervised. If you don't select it, you don't see the private chat channels.

---
Settings you can change DURING a session

Settings you can change DURING a session

Moderators can change participant permissions any time before or during a session. Open the Collaborate panel and select My Settings. Select Session Settings.

By default anyone with a participant role is allowed to show their profile picture, share their audio and video, post chat messages, and draw on the whiteboard and shared files.

Optionally, change these settings:

Show profile picture for moderators only: If selected, participant profile pictures don't appear anywhere profile pictures are seen in the session. This includes in the Attendees panel, chat, breakout groups, and on the main stage. The default avatar appears for participants instead.
Share their audio: If selected, moderators can mute participants as needed. If not selected, only moderators and presenters can turn on their audio.
Share their video: If not selected, only moderators and presenters can turn on their video.
Post chat messages: If not selected, moderators and presenters can still use chat. Participants can't use chat but they can see any chat messages posted by moderators and presenters.
Draw on whiteboards and files: If not selected, only moderators and presenters can draw on whiteboards.

If your session has over 250 attendees, everything is off for participants by default and can't be changed.

---
Large session settings

Large session settings

Large sessions in Collaborate have over 250 and up to 500 users in the session. This is a lot to manage. For this reason we've turned off some of the features that can be disruptive in a session with that many attendees.

Participant permissions: We turned off these participant permissions.

Share audio
Share video
Post chat messages

Moderators can choose to turn this on DURING a session.

Draw on whiteboards and files

The permissions are off for participants only. Moderators and presenters can still do all of these things.

Breakout groups: We've also turned off breakout groups as the group is too large for small group collaboration.

If you expect over 250 attendees in your session, you must submit a large session request to the Collaborate support team in ITServices.

---
Using Chat

Using Chat

Private chat

Chat privately with anybody else in your session.

Private chat does not work with the student Blackboard app at this time.

By default you see the Everyone chat when you first open Chat. Select Previous Panel by the Everyoneheading. Then just type the name of the person you want to chat with and start chatting.

Be careful what you say in your private chats! Moderators may supervise private chats between participants to monitor for inappropriate language or bullying. There is a warning when moderators are supervising.

Moderators can limit who participants chat privately with. Moderators can choose to allow participants to only chat privately with moderators.

Moderators also have their own private chat already created for them. Participants won't see the Moderators chat channel.

If moderators want to supervise private chat, the option must be selected BEFORE the session starts.

Only the Everyone chat is included in session recordings.

---

Watch a video about private chat

This video explains the private chat.


---

Private chat settings

Moderators can limit who participants can chat with. Moderators can also supervise all private chats.

If you want to supervise private chats or allow participants to only chat with moderators, you must select each option in Session Settings BEFORE the session starts.

Participants can only chat with moderators: Private chat is available by default. When selected, participants can only chat privately with moderators. If you don't select it, participants can chat privately with any body else in the session.
Moderators supervise all private chats: When selected, moderators can see everything that is said in private chat channels. An alert appears at the top of the private chat channel informing users that the chat is being supervised. If you don't select it, you don't see the private chat channels.

---
Recording A Session

Recording A Session

Record your sessions so that your students can access presentations whenever they need them. Stop and restart whenever you need to, and when finished, post the session to your course page.

Recordings capture the audio, video, and any content that is shared during a session. Recordings also capture any real time captions or chat available during the session.

You can have multiple recordings during one session. If you decide to continue recording a session after you have stopped, a new recording is saved and added to the list of recordings for that session.

Open the Session menu and select Start Recording. The recording camera appears on with a red dot while recording is in progress.

To finish recording, open the Session menu and select Stop Recording.

If you are sharing a file, allow 8 seconds for the recording to include the shared file before moving on.

---
How do I find the recordings?

How do I find the recordings?

From a Blackboard Learn course, select Course Tools and Collaborate (location depends on how the menu is organised in the specific module).

---
Can I Download Recordings?

Can I Download Recordings?

Yes. If the moderator has allowed session recording downloads, you can now download recordings from the same place you view the recordings as well as on the recording play back page.

---
Getting Set Up

Getting Set Up

Getting Set Up

You must give the browser permission to use audio and video to participate in a session. This is necessary so that you are seen and heard.

You'll be asked to do this when you first join a session or when you first go to share your audio or video.

It's OK if you're not ready to do this right away. You can set up audio and video at any time in My Settings.

Open the Collaborate panel and select My Settings.
Select Set Up your Camera and Microphone.
Choose the microphone you want to use. Collaborate tells you that you sound great when it is receiving your audio. Select Yes, it's working to proceed.
Choose the camera you want to use. Collaborate tells you that you look great when it is receiving your video. Select Yes, it's working to proceed.

By default, you are hidden and muted after you complete the setup. Select the microphone and camera icons to begin full meeting participation.

Adjust your speaker and microphone volume any time in My Settings.

---
Add a Profile Picture

Add a Profile Picture

Having a social presence can be critical to a successful online learning experience. Something simple as adding a profile image can make learners more comfortable with participating online.

Open the Collaborate panel and select My Settings.
Point to the avatar and select it.
Upload any image or use your device camera to take a photo. You can choose to use this profile picture for every session.
Adjust the image area.
Select I Like it!

---
All the icons explained!

All the icons explained!

Main Interface Icons" icon="comment-1″]

Icon
Tool
Description
Audio
Turn your audio on. Lines through the microphone icon means that it is turned off. Select Share Audio to turn it on.

With your keyboard, press Alt + M to turn your microphone on and off.

Video
Turn your video on. Lines through the camera icon means that it is turned off. Select Share Video to turn it on.

With your keyboard, press Alt + C to turn your camera on and off.

Hand raise
Raise your hand to answer a question or get another moderator's attention. Select Raise Hand.

With your keyboard, press Alt + H.

Collaborate panel
Open the Collaborate panel.
Session menu
Open the Session menu.
Follow the speaker view
Switch to the follow-the-speaker view.
Grid view
Switch to the grid view.
Picture-in-picture
Change the focus of your screen. If shared content is on your main screen, switch to watching the speaker. Select the picture-in-picture to bring that content to your main screen.
Status
Show yourself as away. Point to the green checkmark by your avatar image and select Set as Away. Select I'm back! when you return.

---
Session Menu Tools

Session Menu Tools

| Icon | Tool | Description |
| --- | --- | --- |
| | Start/Stop recording | Open the Session menu and select Start Recording. |
| | Use your phone | Use your phone for audio during a session. |
| | Report an issue | Report an issue with the session. |
| | Help | Go to Blackboard Collaborate help on help.blackboard.com. |
| | Learn about new UI | Open tutorials on how to use Collaborate. |
| | Leave session | Exit the session and complete a quick survey to tell us about your experience. |
| | Close | Close the Session menu. |

---
Collaborate Panel Tools

Collaborate Panel Tools

Icon
Tool
Description
Chat
Chat with participants. Open the Collaborate panel and select Open Chat.The emoji pack for Collaborate with the Ultra experience supports diversified emojis and Unicode 8 characters.

Use one of five supported skin tones on any human emoji. Add underscore, tone, and the supported tone number (1 through 5) to your emoji when typing. Don't forget the colons on either end of your emoji text.

Example: :wave_tone5:
Collaborate's chat history only has 50 messages displayed at any given time.

Participants panel
View the list of participants. Open the Collaborate panel and Select Open Participants List.
Share Content
You can share a blank whiteboard, an application, PDFs, PowerPoint® presentations, and images in GIF, JPEG and PNG formats. You can also poll participants. Open the Collaborate panel and select Share Content.
My Settings
Add a profile image, set up your audio and video, your notifications, and session settings. Open the Collaborate panel and select My Settings.
Close
Close the Collaborate panel.
Share Whiteboard
Share a blank whiteboard from the Share Content panel.
Share application
Share your entire desktop or a single open application from the Share Content panel.
Share files
Share PDFs, PowerPoint® presentations, and images in GIF, JPEG and PNG formats.
Polling
Start a simple poll to share with your participants.
Breakout groups
Start breakout groups.
Options
Open the participants options menu.

---
Content Editing Tools

Content Editing Tools

Use these tools to edit and mark up shared files and the whiteboard.

Icon
Tool
Description
Select
Use the arrow to select an object on the whiteboard. After you select it you can resize, move, and delete it.
Pointer
Use the hand to point to different areas of the visible slide. Participants see wherever you are pointing on the slide.
Pencil
Use the pencil to draw free hand on the slide.
Shapes
Use the Shapes icon to draw a rectangle, ellipse, or a straight line. Your choice.
Text
Type text on the slide with the "T".
Clear
Use the eraser to undo everything.
View controls
Show or hide your zoom, fit, and size controls.
View controls opened
Zoom in, Zoom out, Best Fit, Actual sizeBest fit takes advantage of your screen real estate. Content adjusts to be completely viewable in the available area. It displays as large as possible while keeping the aspect ratio intact.
Slide navigation controls
Move to the previous our next slide.

With your keyboard, press Alt + Page Down to move back a slide and Alt + Page Up to move forward a slide. On a Mac, press Alt + Fn + Down Arrow or Alt + Fn + Up Arrow.

Select the slide name to view all slides.

Stop
Stop sharing content.

---
Audio and Network Indicators

Audio and Network Indicators

| | Tool | Description |
| --- | --- | --- |
| | On-air | Collaborate tells you when others in the session can see your video. If you see an eye, your video is the focus of everyone else's screen. If you see an eye while content is shared, others see your video as their picture-in-picture. |
| | Audio status | See who is speaking and who has their microphone turned on. Microphones appear next to participants who have their audio turned on. A dark microphone is used to represent the current speaker., which moves to the current speaker as the discussion unfolds. |
| | Network status | You can tell at-a-glance who is in your session and who might be having trouble connecting. Network indicators have been added to the Participants panel. These tell you when someone is in the process of joining your session, if users are connected, and how their connection is. Move your pointer over participants in the Participant panel to see the indicators. Move your pointer over the indicator to see network status information. |

---
---