Blackboard Collaborate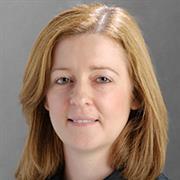 Module Coordinator: Dr Linda Dowling-Hetherington
Collaborator: Business eLearning
Modules: Management Practice
Department: The Centre for Distance Learning
Target Audience: Part-time programmes and international programmes in Hong Kong, Singapore and Sri Lanka.
Blackboard Collaborate offers a social, interactive learning experience with virtual classrooms, online conferencing, instant messaging and more collaboration tools. The Blackboard Collaborate live virtual class system integrates with the LMS to enable the recording of sessions for later viewing.
Linda used Blackboard Collaborate, a multi-way audio and visual conferencing facility, to give lectures on two Management Practice project-based modules. The purpose of these sessions is to remind students of what is expected when finalising their project submission and secondly to address any questions. "Before I started using Collaborate, students contacted me individually with questions. Often, students submitted their work but omitted an important area – short Collaborate sessions can be great for those gentle reminders."
According to Linda:
Although individual students still contact me, using Collaborate means that the delivery of the module is not as resource intensive; students are encouraged to note any questions they have and raise them during the online Q&A session. The feedback from students has been very positive.
They benefit from hearing each other's questions, while Linda benefits from the flexibility of the service "You can schedule a session with a click of a button and you can avoid all of the logistical arrangements needed for a face-to-face session. It's user-friendly and sessions can be recorded."
In the future, Linda plans to use Collaborate for her Singapore and Hong Kong modules and hopes to schedule an introductory briefing session on the module before travelling to these locations to teach. Blackboard Collaborate can be accessed directly from Brightspace and incorporates video, audio, whiteboard, chat, web-links and shared applications.
Build Online Communities — Collaborate acts as a synchronous technology allowing you to build vibrant learning communities that encourage participation and stimulate innovation.
Increase Retention Rates — Incorporate interactive and reusable content in a real time environment creating a virtual instance of the traditional classroom.
Support — Collaborate includes web conferencing, instant messaging and a shared, interactive whiteboard to display content creating a engaging learning environment for students.