Instructor Guide to Managing Content
.
Blackboard Course Menu
On the left-hand side of the course you will see the Course Content Area. This is where you will place all your learning materials e.g. Items & Learning Modules.
Always check you have your standard 3 areas 'Start Here , 'eLearning', and 'Assignment' (Assessment) section.

Watch this short video on how to Edit a Course Menu
Adding Content
The Build Content dropdown list contains all the types of content you can create within your course. There are options to Create Content, Create a New Page, or create a Mashup. All of this content can be organized in a Lesson plan or folders, to create a structure and flow through the Course. When adding content to an area you can set date and time restrictions.
The 'Edit Mode is [ON]'button must be enabled in order for you to add content.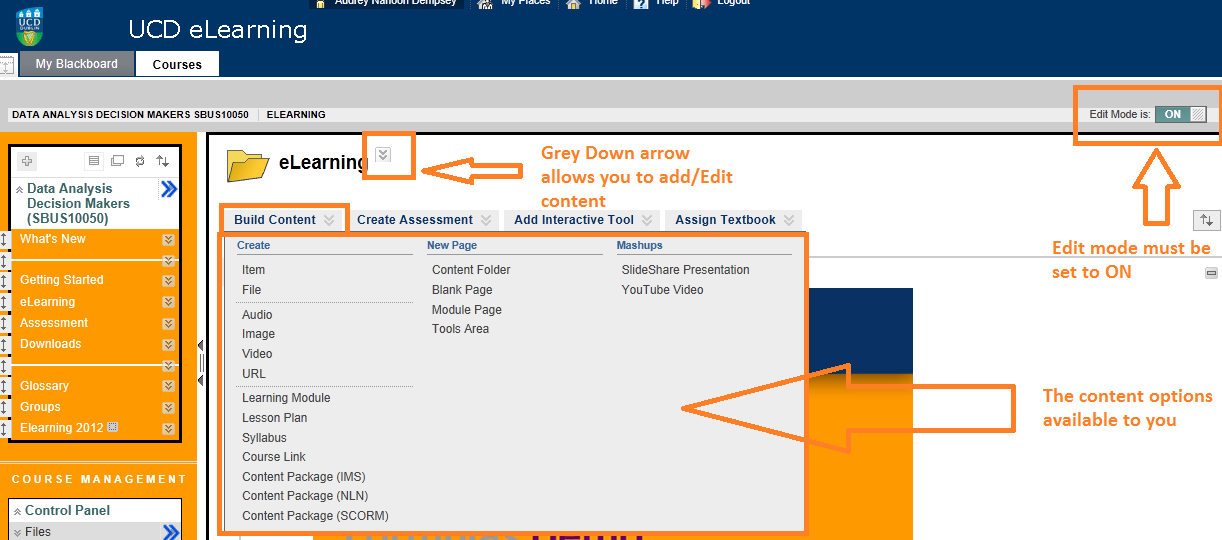 The '
Edit Mode is [ON]'
button must be enabled in order for you to add content.
Text Editor
The
Text Editor
appears in many locations throughout the blackboard system. It is an interface that resembles a word processor, where you can format text, insert tables, create links, insert banners, Icons and images.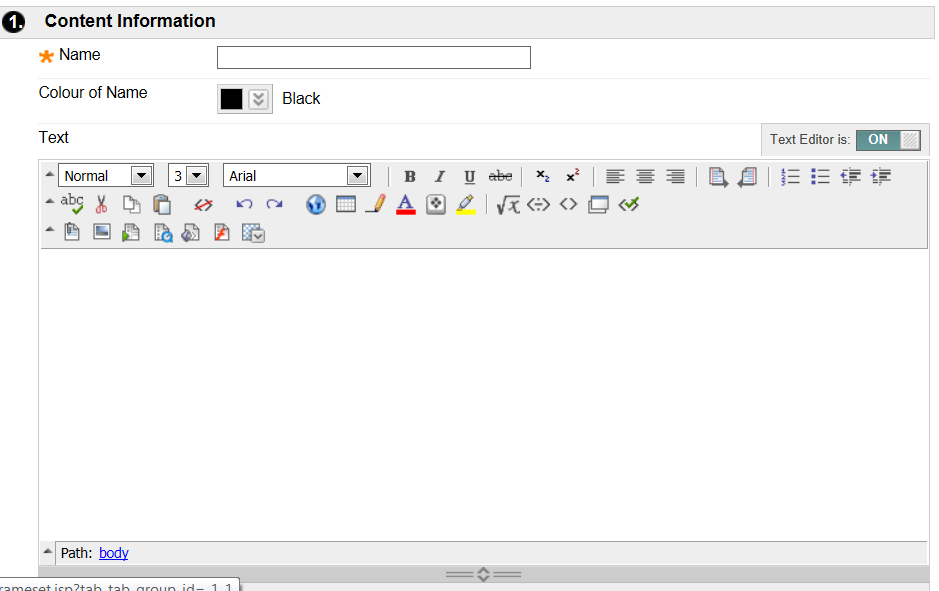 or
Take a look at this video to learn how to use the Text Editor:

 Using Blackboard's text editor
Adding Files to Blackboard
Blackboard allows for the majority of standard file types to be uploaded i.e. *.doc, docx ,*.pdf , *.xls,*.xlsx, ppt,pptx, mp3,mpeg.
There are many different options on how to upload or add content to your course area. These options are dependent on the file/content types you want to upload.
Here are the instructions for uploading different content types.
Using Blackboard Learning Modules
Learning Modules are used to package and present content and allow instructors to organise related course materials in a Table of Contents. All types of content, such as items, Assignments, and Tests can be included in a Learning Module.
Learning Modules are edited like any other item in a Content Area. Content within a Learning Module is added and managed just like content in a folder or Content Area. The Learning Module is a shell to which other types of content, such as files, are added.



Depending on how an instructor sets up a Learning Module, students can view content in one of two ways:
Sequentially: material is viewed in a specific order.
Non-Sequentially: material is viewed in any order.
Click here for instructions on how to use a Learning Module
Creating a Tool Link
You can link to blackboard tools such as email, so students can use the blackboard email system.
Setting Date and Time Restrictions