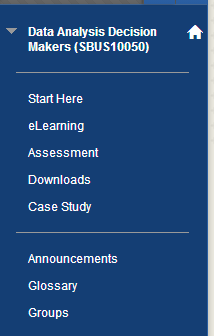 Getting Started with Blackboard
Modules layouts may vary in design depending on the Lecturer in question. However, some common design elements exist throughout all Blackboard modules.
Module menu:
The access point for all Module content added by your lecturer.
The Module Frame:
The larger area of the screen adjacent to the Module menu that displays the selected content area, tool, module page, or material.
Accessing Modules
While inside one of your Modules, you can conveniently access all the Modules you are enrolled in.
Click the down arrow next to the house icon to access the contextual menu.
Select another module.
If the same page you are currently on exists in the next module, that is where you will land.
Example: if you are viewing the Announcement page in one module and then select another module from the contextual menu, you are taken to that module's Announcement page.
Watch a Tutorial